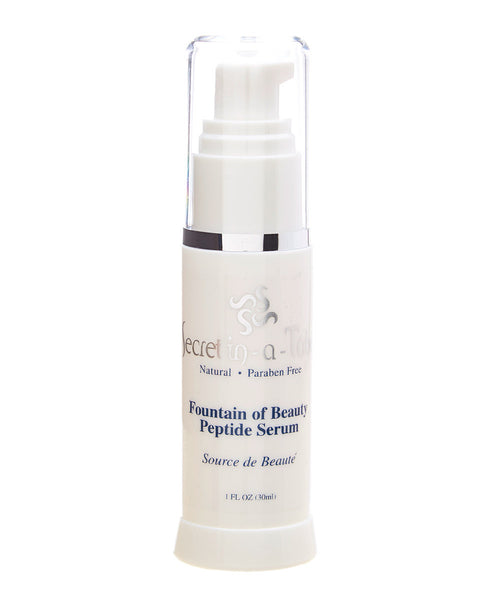 Secret in-a-Tube Fountain of Beauty Peptide Serum
The Secret in-a-Tube Fountain of Beauty Peptide Serum contains a network of proteins that are designed to stimulate the skin's own internal building blocks. Peptides function as messengers in the skin, allowing the epidermis and dermis to communicate more efficiently. The Peptide Serum greatly enhances the skin's ability to renew itself while helping prevent the premature breakdown of the skin. The Peptide Serum contains a variety of peptides that have been shown to decrease skin roughness, reduce wrinkle volume, decrease wrinkle depth and gently relax facial muscles, including in the forehead and around the eyes. The Peptide Serum also increases elasticity and tone by promoting extracellular matrix renewal and cell proliferation. A youthful smoothness is restored while a plump, wrinkle defiant skin is regenerated. Suitable for all skin types. NATURAL & PARABEN FREE. 1 oz.
Ingredients:
Seaweed Extract, Purified Water, Hyaluronic Acid, Acetyl Hexapeptide, Pentapeptide-3, Tripeptide, Acetyl Glutamyl Heptapeptide-1, Palmityoyl Oligopeptide, Palmitoyl Tetrapeptide-3, Phenoxyethanol, Ethylhexylglycerin.